Car Search Help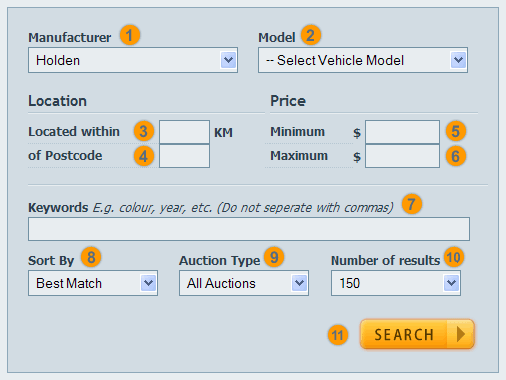 Conducting a Search
Great Aussie Car's Car Search enables you to more precisely pinpoint the vehicle you're looking for.
1 - Select the manufacturer
Choose either Holden or Ford.
IMPORTANT NOTE: It may take a moment or two for the page to reload.  This is necessary to update the Model drop-down.
2 - Select the Model
After you select a manufacturer the second drop-down will fill with car models produced by that manufacturer.
Select your preferred model - this however is optional.
The model I want isn't there!
DO NOT select a model from the drop-down. Instead, manually enter the model name into the keywords field (see Step 7 for more information) .
For example:  If you wanted to search for Holden Barinas you'd enter "Barina" into the Keywords field.
3 & 4 - Distance and postcode
If you're looking for a vehicle in a specific area you can specify a postcode .  This will force the search to only find vehicles in close vicinity to the specified postcode.
You can only enter one postcode at a time you, however you can specify a distance radius around that postcode to widen the search.  The greater the distance the more search results likely to be returned, but the further away from your specified postcode they are liekly to be.
5 & 6 - Minimum and Maximum Price
If you have a set budget you may want to specify a Maximum Price.  Doing so will only return vehicle Search Results less than than your specified price.
If you're looking for more expensive or newer vehicles then you may wish to specify a Minimum Price.  This will only return vehicle Search Results greater than your specified price.
If you want to specify a price range simply enter both a Minimum and Maximum price.  Doing so will return vehcile Search Results within your specified prices.
7 - Specify Keywords
To further refine your search you can enter keywords.  This is particularly useful if you wish to specify a vehicle colour or year of manufacture.  You can also enter vehicle models not available in the Model drop-down.
IMPORTANT NOTE: Keyword search ONLY searches for words within eBay Auction titles, it DOES NOT search within auction descriptions.
This means if your keyword is not in the auction title it WILL NOT be picked up in the Search Results.  Great Aussie Cars wishes to overcome this is a limitationin the future.
8 - Sort By
You can specify the order which results are returned.  The options for this drop-down are self explainitory.
9 - Auction Type
You may specify the choice between Standard Auctions and Buy It Now auctions.
Standard Auctions - displays auctions in which you must submit the highest bid before the auction ends.  Your typical eBay auction.
Buy It Now Auctions - displays auctions which you win instantly by agreeing to buy the vehicle for the specified price.
All Auctions - displays both Standard and Buy It Now auctions in the Search Results.
10 - Number of Results
This is the number of auctions that will be returned in the Search Results.  If you have a slow Internet connection you may wish to specify a fewer number of auctions, although the best method of returning fewer results is being more specific with your Search Parameters.
11. Perform Search
Once you've finished specifing your Search Parameters hit the big orange Search button.  The page will reload and your research results will appear beneath the Car Search Form.
IMPORTANT NOTE: You may need to scroll down the page to see your Search Results.
Alternatively you can click the "Skip to auction Search Results" link to scroll automatically.
Refining a Search
Simply scroll back up to the Car Search Form or click the Modify Search link to scroll up automatically.
Now just alter the Search Parameters as you see fit.
I'm not getting any Search Results!
Try broadening or selecting fewer Search Parameters.  Make sure you haven't specified too many keywords in the Keywords fields.
The Vehicle Models Don't Update
You need to have JavaScript enabled in your browser for this form to function properly.
The Car Search Form looks messed up
The form works best in the latest Internet browsers, preferably Mozilla FireFox 3+
Where do I Conduct a Search?

Add the following link to your bookmarks:
http://www.greataussiecars.com.au/search